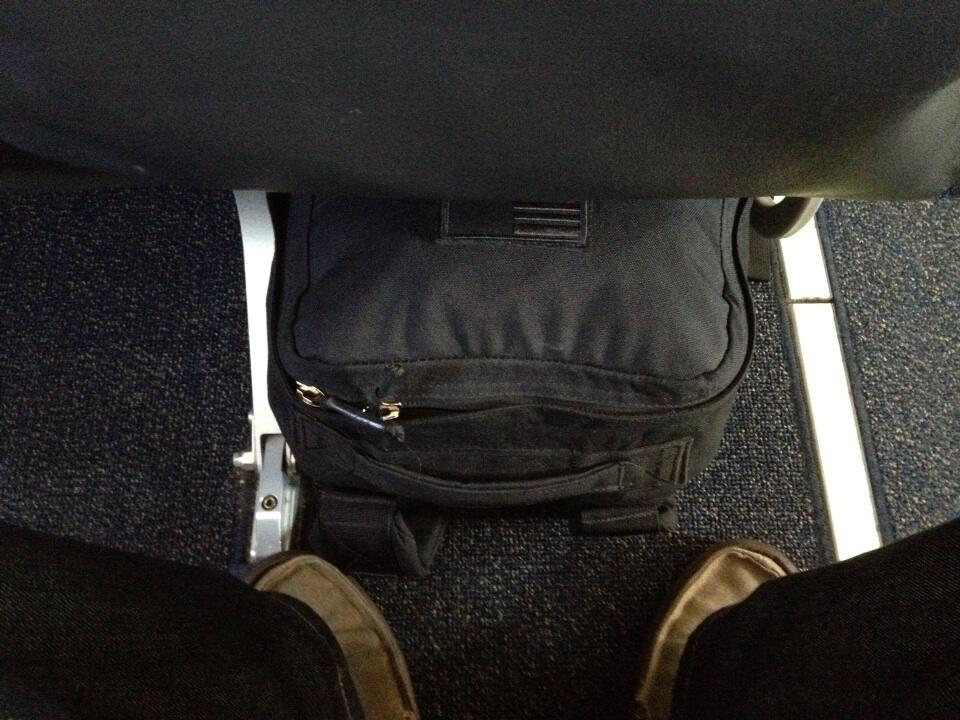 Traveled eight days in Maui without using an overhead bin on the way out or back. My GORUCK GR1 fit under the seat in front of me both ways. Had everything I needed for my academic conference, adventures through heat, wet, and cold, and lounging around the resort.
Packed inside the GR1:
clothing for an academic conference (long khakis, shorts, tie, two Hawaiian shirts)
Eagle Creek Pack-It Folder 18
headlamp
bathing suit
SeV Performance T-Shirt
Patagonia long sleeve wool t-shirt (for sunrise at Haleakala)
Patagonia Nano Puff (for sunrise at Haleakala)
Patagonia Torrentshell Parka (for sunrise at Haleakala)
Merrell Trail Glove running shoes (pack down to nothing)
1 pair SmartWool black sock liners (make great daily wear socks & thin enough to dry quickly)
1 pair SmartWool running socks
Black Diamond Bbee daypack
iPad
Zagg Keyboard for iPad
MacBook Air 11"

1 pair of ExOfficio boxers

1 pair of triathlon shorts (can be used as backup bathing suit and backup boxers)
miscellaneous academic articles
sunglasses
headlamp
Amphipod running belt
Thin, plastic folder to keep academic articles and receipts
Various pens and highlighters
small notepad
Ziploc full of toiletries (toothbrush, toothpaste, deodorant, shaving cream, hair gel)
Seat to Summit Trek and Travel Pocket Laundry Wash (for washing clothes in the sink)
various cables, connectors, batteries, headphones, and chargers for electronics
collapsable Patagonia tote/shopping bag
monocular
What I wore:
long-sleeve button up shirt
short-sleeve SmartWool t-shirt
blue jeans
ExOfficio boxers
SmartWool black sock liners
SeV Travel Vest
Patagonia R1
Sanuk Pick Pocket shoes
In my SeV Travel Vest:
Kindle Touch
Sony RX-100 camera
Maui Revealed guidebook
iPhone
Made it there and back without checking luggage or using the overhead bin. Items crossed out were things I either never used or used for a grand total of ~ 10 minutes for the whole trip. Surprised not to need to MacBook Air (iPad + external keyboard + LogMeIn + desktop PC in office = good enough). Didn't use my Patagonia Torrentshell, but would have been handy had I put it on before waiting in the high-winds at 5 AM the top of Haleakala, waiting for sunrise.
I should note that on all flights, I had an aisle seat which meant my space under the seat in front of me was narrower than other seats. The GR1 still fit underneath without any problem.
Had to wash socks and undies to dry overnight each day, but totally worth it. (Took less than 5-minutes per day.) Picked up suntan lotion on the island. Still had room to spare to bring back a few small souvenirs on the way home.
This kit kept me well-prepared for work, conference events, making an academic presentation, snorkeling, hiking through bamboo forests, enduring near-freezing temperatures (although my feet did get a little chilly -- should have doubled up my socks), five hours on horseback, relaxing at the resort, paddleboarding, and more. Had everything I needed. Brought several things I didn't use. Nothing left at home that I wish I had brought.
Pack light. Travel fast. No better way to go.